For 60 years, Ken has been wearing all the right clothes
Today, Ken Carson, better known as Ken Doll or Barbie's long-time boyfriend, turns 60 years old. For many of the past six decades, Ken was believed to be the less fashionable half of Mattel's iconic power couple. While there is no denying that Barbie has racked up notoriety for her seemingly endless fashionable wardrobe, Ken, too, has made many fashionable contributions, despite the ongoing joke that he only has two outfits: swim trunks and a tuxedo. In fact, Mattel has kept Ken's wardrobe fully stocked by releasing a hundred or more on-trend and up-to-the-minute clothing and accessory packs each decade. In honor of Ken's diamond anniversary, let's explore six outfits that prove Ken was never second-class.
1961's Saturday Date
This medium gray suit paired with a white dress shirt, accompanied by a ivy-striped tie, and finished with black socks and shoes epitomized the Ivy and Continental style of clothing that made up much of Ken's initial wardrobe. With working buttons and zippers, and sharp styling and tailoring, Ken looked ever so sophisticated on his date with Barbie. No wonder it was love at first sight.
1972's Walk Lively Ken
The 70's, known for its browns and oranges, can feel a bit sepia-toned in our memories. But 70s fashion had a real vivid side, often dominated by strong colors, dominant plaids, and loud prints. Ken walked confidently into this new decade dressed in a blue knit shirt paired with wide-legged, yellow and blue plaid pants, and finished with brown shoes. With a look this bold you know Ken was definitely going places (probably to buy a leisure suit).
1986/7's Barbie and the Rockers
Though Barbie was the lead singer in this all-star band, Ken (literally) outshines her dressed in an ankle-length silver lamé coat with matching neck scarf over a silver muscle-tee featuring "Rockers" amidst a sea of pink stars that was attached to shortened, silver pants with pleated waist and finished off with a silver, textured belt. Pink socks with silver stars, and, you guessed it, silver sneakers completed the look. Not only was Ken rockin' 1980s rock-glamour couture, he was also shredding a hot pink electric guitar.
1992's Totally Hair Ken
Barbie reached new heights (or should I say lengths?) when Mattel released Totally Hair Barbie, one of the best-selling Barbies of all time. Right by her side stood Ken with high styled hair (think Brandon and Dylan hair heights during peak Beverly Hills 90210). Of course, hair styled that high needs a flashy outfit to show it off, and showing-off is what Totally Hair Ken did best. Perfectly dressed for the early 90s with his brightly-colored, wild-patterned shirt and purple parachute pants, Ken was totally stylin'. (And I'm not saying that because I owned a purple pair of pants like Ken's which I loved.)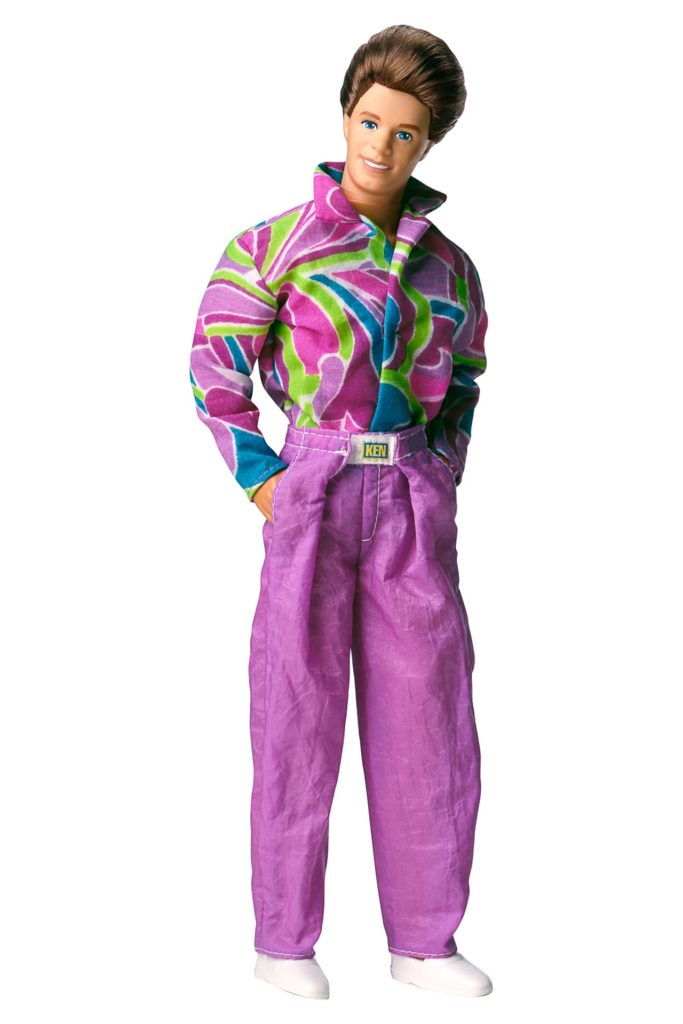 2003's 1 Modern Circle Ken
This limited series line showed Ken off as the modern, up to the minute fashionisto he always was. While two Kens were designed for this line (both equally fashion forward), it's Ken's red-carpet look that really speaks to the height of fashion in the early 2000s. His black, band-collar dress shirt and black taffeta pants set the stage for the star of this ensemble: an elongated, jeweled-toned burgundy taffeta jacket. The entire look, including the black slip-ons (which bear a striking resemblance to a pair of Hugo Boss shoes I bought the same year), reflects the sleek, futuristic approach applied to fashion in the early part of the decade.
2019's BMR1959 Ken
The BMR1959 collection is inspired by the 90s, influenced by the popularity of elevated street and athleisure wear, and celebratitory of diversity. The first of two Kens offered in the premier line came dressed in an oversized, red and orange hoodie paired with baggy, blue and white basketball shorts and a pair of black sliders for footwear. The hoodie, shorts, and sliders all feature logo branding, as does Ken's black crossbody bag (we used to call these fanny packs in the 80s and 90s). A pair of oversized, clear glasses and a trendy top knot hairstyle with buzzed back and sides helps Ken to not only meet the moment but blow it away.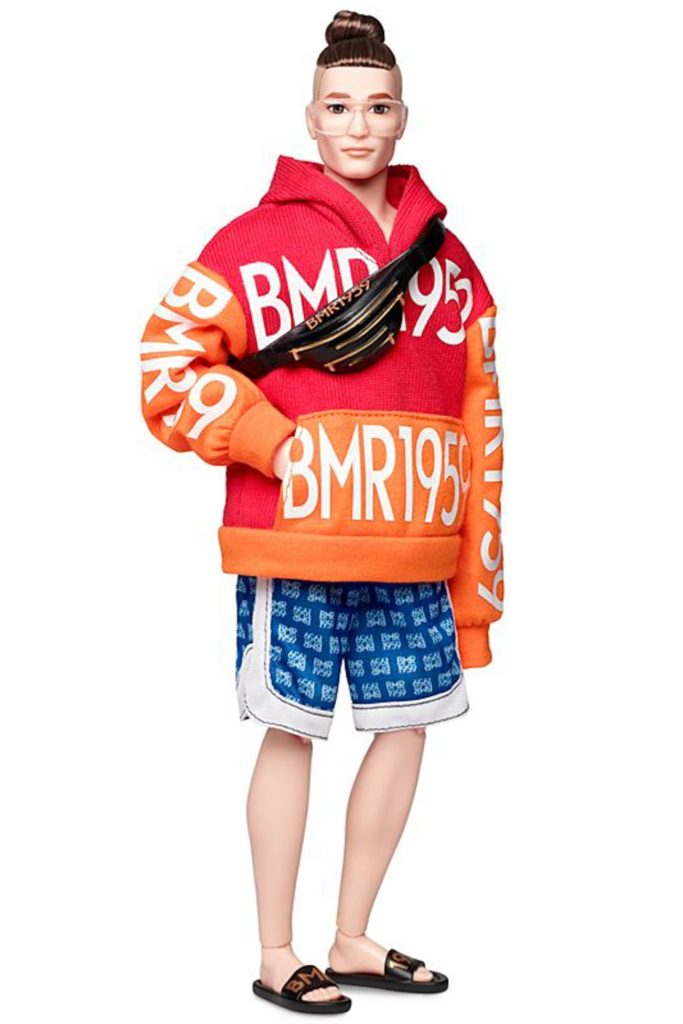 For 60 years Ken and his clothes represented the shifts and changes of real-life men and menswear.
Though often seen as just another of Barbie's accessories, Ken was and is a lot more than Barbie's tuxedo-clad escort. With a wardrobe just as stylish as Barbie's, the ever-evolving Ken doll and his fashion choices serve as a reflection of where we started and where we are going. Ken's future, his fashion, and his new-found diversity looks very bright. I can't wait to see what the next 60 years will bring.
Brian Centrone
NLSP Co-Founder & Publisher
Banner photo credit: Mattel, Inc.