NEW writers get Folked Up
Charlotte Byrne's short story "Conjuring the Man" appeared in the fourth book in The NEW Series, First Came Fear: New Tales of Horror (2018). Her debut novel, Folked Up, was published by Crystal Peake Publishers in March of 2020. It is a fun and funny novel whose main characters, Matty and Sandy, travel back in time after finding and singing a cursed ye olde folk song. Infused with music, magic, and British folklore, Matty and Sandy must fight (with swords!) and sing (more folk songs!) to make their way back home to 21st century Kent.
Nikki Vogel's short story, "My Name is Not Jane," appeared in the second book in The NEW Series, Behind the Yellow Wallpaper: New Tales of Madness (2014).
The two authors talked about Folked Up's journey from M.A. dissertation to published novel, making folk songs accessible to younger readers, expanding short stories into novels, and the writers who have inspired both their works, among other things.
NV: Folked Up couldn't be more different from your short horror story "Conjuring the Man." Aside from the obvious difference in length, Folked Up is a YA (young adult) urban fantasy novel so chock-full of humor I found myself laughing aloud many times. You have a real gift for comedic writing. You also have a knack for narrative voice. Is there a resource that helped you to develop this talent?
CB: Thank you! Aside from studying creative writing formally, I believe that listening to people is the best way to learn how to craft voices. Much of a person's character comes across in the way they speak, and this is why I'm especially fond of using dialogue and first-person narration in my writing.
NV: Back when I was doing my M.F.A. in Creative Writing from University of British Columbia, the thought of writing a novel-length manuscript was daunting. I can't do it, I told myself. Then, the summer between my first and second year, I decided to take the plunge. The novel I wrote was rubbish, but it got me over the fear that I couldn't write anything longer than twenty thousand words. You received an M.A. in Creative Writing from University of Roehampton. Which direction did your writer's journey take? Short to long? Long to short? Neither?
CB: Mine went from long to short and back again! Before university, I started a historical novel and at the time I was convinced it would be the best in the world. Looking back on extracts now, it was awful! I worked on it for several years, and then during the final year of my BA we had the opportunity to write a short story in Spanish and translate it back into English ourselves. I was lucky enough to be one of ten students whose stories were published in an anthology, and it was the push I needed to take myself seriously as a writer. I abandoned the historical project and threw myself into short stories during my M.A., only doing the odd novel extract until I decided to work on Folked Up. The exercises we did in short stories, and flash fiction in particular, were really useful in improving my writing, and I would recommend any writer turn to flash for inspiration if they are struggling with a longer piece.
NV: My thesis project was a collection of short stories. Was that the format your dissertation ended up taking as well?
CB: Funnily enough, my M.A. dissertation was essentially where Folked Up was born! I wrote the first 20,000 words of the novel along with a supporting critical reflection, and I enjoyed it so much that I didn't want to stop writing after submission.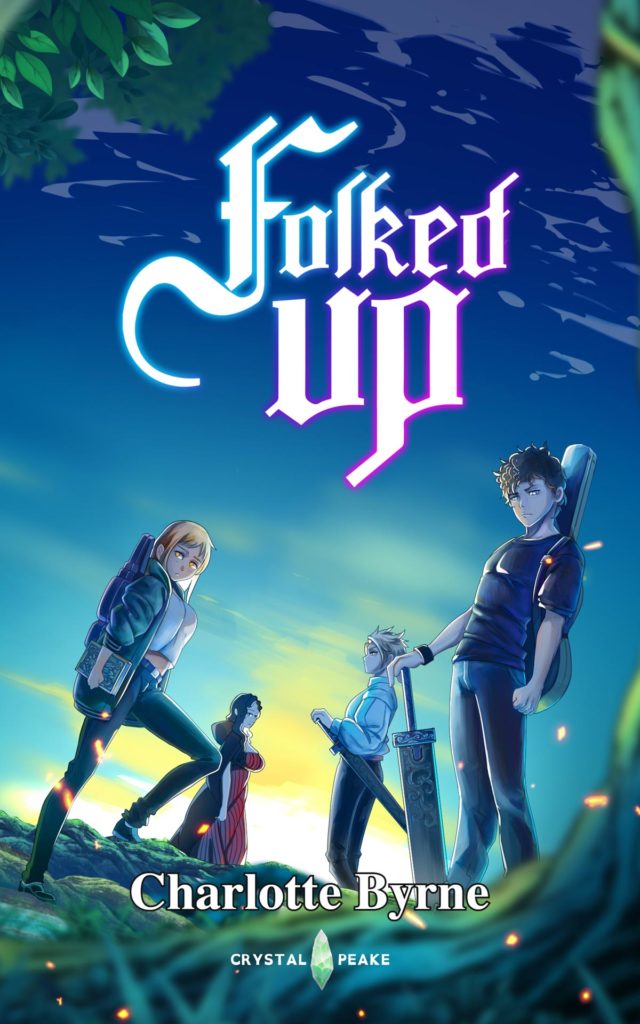 NV: Can you talk a little bit about Folked Up's journey? How many iterations did it see between dissertation and the final version? Have you been wanting to tell this story for very long?
CB: I first had the idea for the story nearly a decade ago, and at that point I thought it would be a screenplay. I wrote several scenes on Celtx [special software designed for organizing projects like screenplays], and then put it away, only bringing it out again when I realised that the concept was better suited to a YA novel, and one I could write for my M.A. dissertation. Some of the dialogue from the screenplay version is present in the text, although, as with much of the text, it was heavily edited. After writing the first draft, there were several elements I needed to change. My antagonist, Thackeray, for example, was nowhere near as nasty as he ended up being, and I had to really show off the extent of his power in order to make him truly threatening. After the rewrites, I then edited the work several times, ensuring narrative voices were consistent and, before querying, checking there were no typos or other inconsistencies. I queried around sixty agents and indie presses after these edits, and of those about seven got back to me with requests for the full manuscript.
NV: HA! I've often thought about taking one of my novel length works and turning it into a screenplay. I learn something new from each format, and it's often something I can reapply to novel writing. Speaking of new formats, you mentioned that you worked on short stories during your M.A. I have expanded three of my short stories into novel length works. When I read "Conjuring the Man" I couldn't help thinking about how much potential it has for expansion. Have you ever considered expanding it to novel length?
CB: Short stories are a fascinating format, and expansion is something I think about a lot. Often when I read a short story I enjoy, I find myself wishing that it were longer. However, the beauty of the short story is that the good ones are as complete as any novel, and characterization, plot, and language don't suffer as a consequence of length. In terms of "Conjuring the Man," I'm not sure whether I personally would feel like expanding it in any form, or at least not for the foreseeable future—never say never!
NV: One thing I noticed is the presence of magic in both your works. "Conjuring the Man" draws on Pagan Witchcraft, Folked Up draws heavily on British folklore. Have you written other works that draw upon paganism, and how much research into British folklore did you have to do to write Folked Up?
CB: Not as many as I would like! There is a strong pagan vein in Folked Up—the magic Allison the witch uses is essentially Wicca, channeled through the more visual element of her wand. (FYI, the "zaps," as Matty calls them, are actually colour-coded, with red signifying more malicious intent.) Apart from "Conjuring the Man" and the novel, there is no other magic present in my work. However, a common element in all of my work is exhibiting the darker side of human nature. For example, in my short story "Georgy Girl" (2018, In Which Dragons Are Real But, Fincham Press) an elderly couple is working on a very special project made entirely of human skin. This is the one story I've written that I still get creeped out by!
NV: Okay, now you have me intrigued. When you can creep yourself out…
CB: Luckily when it came to Folked Up, I knew a bit about British folklore before starting, and folk music in particular. One of the reasons I wanted to write Folked Up was to be able to make the English folksong canon accessible to younger readers and to serve as an introduction to the field. For this reason, the songs I have adapted are all relatively well-known ballads, and it was fun to think about the characters' backstories and work out a reason for them all to come together in the novel. I am currently working on the sequel, and it's exciting to explore areas I'm not as familiar with! There is still so much to learn, particularly at a regional level—the folklore of Britain is vast, and most counties have their own customs and traditions that the rest of the Isles may not even be aware of. I am looking forward to exploring some more traditions from Kent, where I'm from and where the books are based, and sharing them with my readers.
NV: The research sounds super interesting, and your passion for it shines through your work. It's interesting that you just said you are working on the sequel to Folked Up, because clearly the book is meant to be part of a series. How many books do you have in mind for Sandy and Matty? And, do you have them mapped out already, or are you more of a pantser?
CB: I have planned a trilogy, although the series could potentially expand beyond that. I tend to balance mapping and pantsing, but I will never start writing unless I know where I want the story to end. I like to have a rough plan for everything that happens between the beginning and the ending, but sometimes the characters will veer off on their own and do something I didn't expect to happen. This is often when most of my characterization takes place!
NV: I love it when my characters surprise me. Aside from the sequel to Folked Up, is there anything else you are working on?
CB: I am working on another YA novel about a teenage highwaywoman in eighteenth-century England. I am also, as part of my creative writing Ph.D. thesis, writing a historical novel set in Catalonia during the Spanish Civil War and the early years of Franco's dictatorship. It tells the story of a young woman searching for her missing fiancé, who finds herself questioning her sexuality as she begins to fall for an ex-miliciana. It's quite different in tone to anything else I've ever written before, and is helping me think about the writing process in different ways.
NV: Oooh. That project sounds interesting. I look forward to seeing it on bookshelves one of these days. With so many projects, I have to ask, when the muse allows you to step away from your desk, what are your hobbies, or other interests?
CB: I adore films, and work part-time in a cinema alongside my writing and studies. I also enjoy all kinds of music and am a big fan of anime. I love dogs, and my French bulldog Bill is normally always by my side while I write.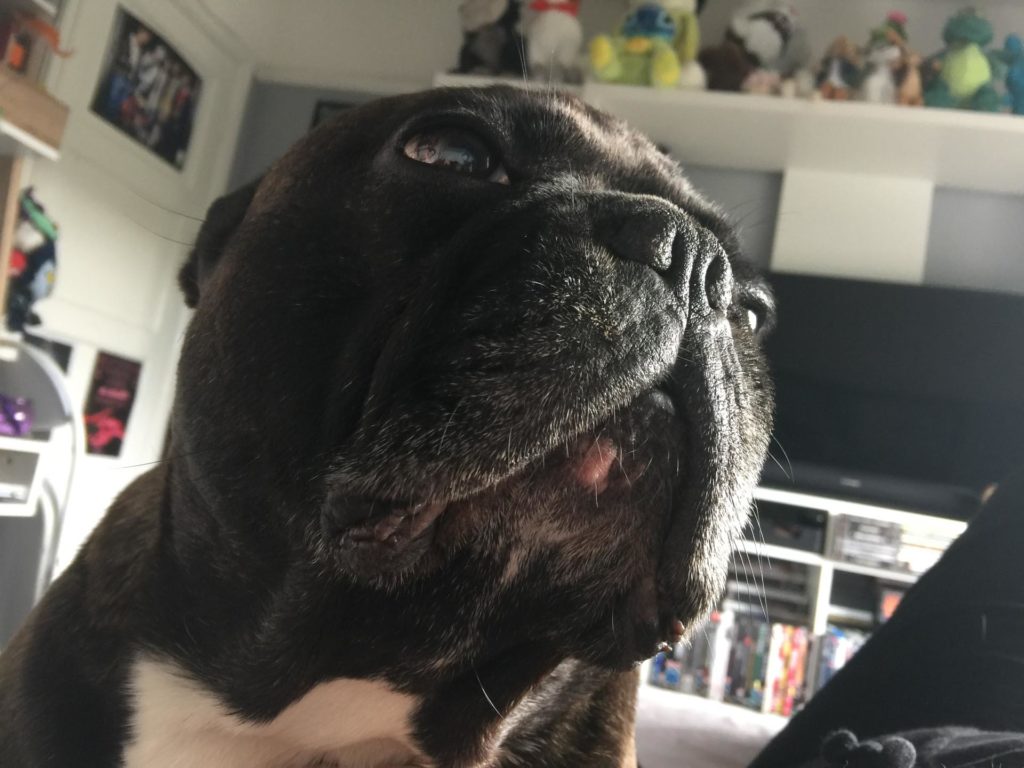 NV: I find Frenchies utterly adorable. They always seem to love my dog, Luna, who's a standard sized Xoloitzcuintle. She's by my side when I write as well. Talking about writing, I always struggle when someone asks me to name my favorite writer, as though picking only one is possible. However, I can say that Stephen King's body of work has been hugely influential for my own writing. If you had to pick one or two (or even three) writers who have influenced your work, who would they be?
CB: R.L. Stine made me fall in love with reading as a child, but Sarah Waters is the author that made me want to write. Her historical novels reached me as a teenager at a time when I had nearly forgotten how to read for pleasure, and in turn inspired me to start creating my own stories. In terms of YA, Scott Westerfeld is my hero. His Leviathan series of novels are some of my favourite books of all time.
NV: Finally, do you have any advice for new writers?
CB: I would recommend writing longhand when starting a new chapter or scene. It's less intimidating than sitting down at a blank page on the computer, and when you finally type it up it can be easier to edit. It is also important to dedicate time to your story—use time management apps if you have to—but also don't work so hard that you forget to make time for everything else. If you're struggling, get up and go for a walk, and make sure you switch off the tech. Don't be afraid to share your work with others while you are drafting, and remember that there is no time limit for finishing your story. Above all, be kind to yourself, and always make sure there are biscuits handy!
NV: Biscuits! I agree wholeheartedly, though I tend to lean more toward chocolate.
CB: Either works!
Folked Up by Charlotte Byrne is available now.
Charlotte Byrne
Charlotte Byrne is an author and Ph.D. student at Queen Mary University of London. Her debut novel Folked Up was published by Crystal Peake in 2020. She has also had work published in anthologies by New Lit Salon Press, Fincham Press, and DualBooks, as well as DIVA Magazine. When not fussing over manuscripts, she can be found slinging popcorn or chasing dogs.
Nikki Vogel
Nikki Vogel lives in Edmonton, Alberta, Canada. She holds an MFA Creative Writing from UBC, and is seeking an agent for her literary YA novel. When she isn't writing, she's playing with her dog, Luna-tic the Xolo, or cycling or reading, and always, always eating chocolate.